Gilles Dumangin, Créateur de Cuvées & 5th Generation, is very pleased to present his new range of Champagne packaging. A cleaner, smarter, classier range in its design with the same Champagne DUMANGIN J. Fils quality which you know already. Our quality has been blessed by other 200+ press articles & 100+ awards. Our Champagne Ambassadors, who have been pleased to distribute us for years will be delighted by this delicate balance of pastel colors underlining the quality of our Premier Cru wines. Our famous customers like Paul McCartney already chose us for their celebrations, Top Chefs like Gordon Ramsay for their tables…
Come & Discover or re-discover our Champagnes full of diversity & precision.

Click here to download their impressive Press Book.
Where is located Dumangin & Fils?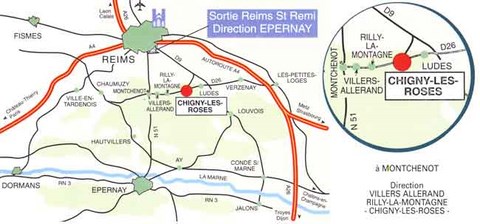 The family vineyard is located in Chigny-les-Roses, an historical district classified Premier Cru nestling on the slopes of the Montagne de Reims.
The name Chigny-les-Roses is relatively recent. Emile Loubet, erstwhile President of the Republic, decided in 1902 to ratify the change of name from Chigny-en-Montagne to Chigny-les-Roses, justified by the presence in the village of a famous rose garden, greatly admired by its many visitors.
Jean Dumangin Champagne has very deep roots, dating back several centuries. The current family represents the eleventh generation. According to our painstaking research it is possible to go back with certainty to Firmin Dumangin – a vine-grower in Ludes, born in 1645 – to find the first traces of the family's wine-making origins.

It was in the second part of the 17th century that the wine-makers began to produce a white wine called "vin gris", obtained using an appropriate pressing of black grapes with a colourless flesh. It was also the period when Dom Pérignon, the monk and cellar master at the Benedictine Abbey of Hautvillers, discovered how to put the sparkle into wine between 1668 and 1715, along with the art of blending grapes before pressing them.


Why Having Champagne Dumangin With Terroirs Export?
I knew Gilles for long time but we never think about working together. Our commun friend, Christophe Chapillon who produced wines in Spain encourage us to work together in the USA.
We talk about it and it became very natural that we should be working together.
I love his champagne because they are as Champagne should be : Pure, clean and very elegant.