Domaine Philippe et Arnaud Dubreuil - Savigny les Beaune

The estate was created by Paul DUBREUIL in the late 1940s. One of his sons, Philippe, moved in 1973 to the centre of the village and the two estates were attached in 1989 following the sudden death of Paul DUBREUIL.
It was in 2000 that the third generation came to work on the family estate, but it wasn't until 2010 that Arnaud officially settled down and took over the estate bringing it from 10 to 12,5 Hectars.
By the side of Savigny-Lès-Beaune, the Domaine produced some Chorey les Beaune, some AloxeCorton and some Corton Grand Cru Blanc.
What about Savigny-les-beaune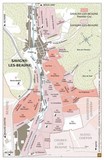 The Savigny-Lès-Beaune appellation covers 354 Ha including 142 Ha in Premier Cru. 317 ha are planted with Pinot noir and only 37 with Chardonnay. Maximum yieds for reds are 40 Hl/ha whereas this is 45 Hl/Ha for the whites.
The premier cru climats are : Les Charnières, Les Talmettes, Les Vergelesses, Les Bataillière, Basses Vergelesses, Aux Fourneaux, Champ Chevrey, Les Lavières, Aux Gravains, Petits Godeaux, Aux Serpentières, Aux Clous, Aux Guettes, Les Rouvrettes, Les Narbantons, Les Peuillets, Les Marconnets, La Dominode, Les Jarrons, Les Hauts Jarrons, Redrescul, Les Hauts Marconnets
Why Working with Arnaud Dubreuil
As Always this is a question of people and question of timing.
As for the people, I have been introduce to Arnaud by a mutual friend (Florent Leroux). It also happen that Arnaud is a far away cousin from an old friend.
As for the timing, until very recently, 100% of the wines make by the domaine were sold to individual but Arnaud was really interested to export his wines as well. We started early 2021 by exporting his wines to HK and to the USA.